Univ. of Tennessee student realizes power of co-op program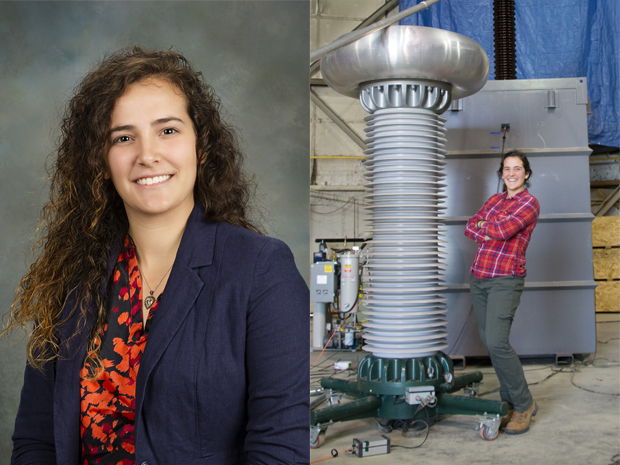 May 26, 2017 – When Taylor Short joined Southern Company as a co-op student, she not only brought her quest for knowledge but also research experience from the University of Tennessee. That skill set allowed Taylor, an electrical engineering student concentrating in power and energy systems, to immediately contribute to the research and development department at Alabama Power's headquarters in Birmingham and positively impact the future of energy.
During Taylor's most recent co-op rotation, she reported to Joe Schatz, who is the manager for Transmission and Distribution Research. Besides helping to develop a variety of sensors that are used on transmission lines, Taylor had the opportunity to lead on several projects. One of those involved bidding a transformer dehydration installation and organizing the process of getting it installed in Georgia last November.
"We took the technology being developed in the power tech lab and installed it, where it will be tested for a year," explains Taylor. "This dehydrator continuously removes moisture from this transformer, and that's important because moisture causes flashovers and arcing and degrades the lifetime of a transformer."
Taylor also was responsible for coordinating the testing of a laser detection tool developed by Virginia Tech. "We had a prototype, and I planned a demonstration on a substation in Georgia," she says. That project encompassed managing the safety aspects and outlining the research and testing steps that needed to be taken. For Taylor, working on this project was invaluable because it gave her both leadership and logistics experience.
Throughout her co-op, Taylor employed advice Supervisor Drew McGuire gave her during her first rotation. "He really encouraged me to network within the company, so I made it a point to meet a lot of managers who weren't in my specific department," says Taylor. "It's important to explore past your area of focus. Understanding the big picture of the company and where the projects need to go is critical, particularly in research."
Looking back, Taylor is grateful for the opportunity to co-op at Southern Company. "I love the environment and the innovation at Southern Company," she says.
"I originally thought I wanted to do an internship with a company, but there's a huge opportunity to learn about the larger industry with a co-op. You get to integrate yourself into a company and make an impact."
Army veteran brings safety mindset to Southern Company Gas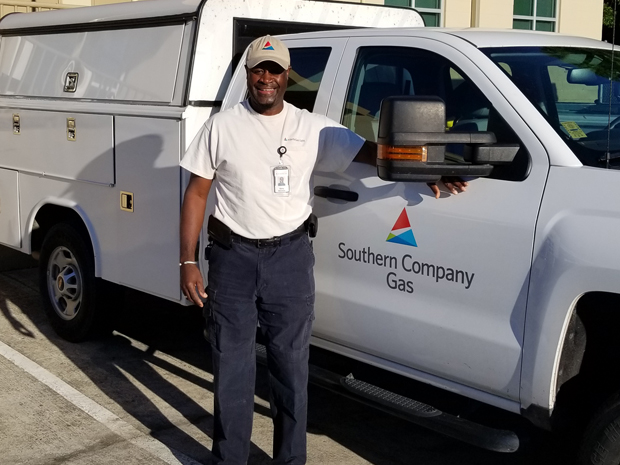 May 12, 2017 – Our commitment to safety won over Barry Merchant.
"Safety is our number one priority in my current position," says the field service specialist A, who works for Southern Company Gas in Savannah, Ga. "At the interview, we talked about safety-this and safety-that, and I knew the job would be a good fit. That excited me about the company."
That interview took place several years ago, when Barry joined Atlanta Gas Light, which became part of Southern Company in 2016.
He first served as an aviation mechanic and later became a leader, responsible for up to 72 service members, including pilots. "In the Army, safety was a priority. I was in charge of tasks and missions, and safety came first," Barry says. "My work was very hands-on."
A native of Saint Thomas in the Virgin Islands of the United States, Barry joined the Army in 1985 after high school and was stationed in the U.S. He served three combat tours; he was deployed to Somalia, Africa, for eight months, Iraq for 18 months and Afghanistan for a year.
Barry considers working for Southern Company Gas a big "win."
"I love the way I was received at the company," says Barry. "When people heard about my veteran status, they would thank me for my service and were interested in hearing about my experiences. That gave me a sense of pride."
"It's a great company, and I compare working here to my time in the Army in terms of how I am treated and the benefits," he explains. "When I talk to other veterans who are employed elsewhere, I realize I hit the jackpot – getting a job with Southern Company Gas and a job that I love."
Barry works directly with customers, inspecting meters, activating service and checking their gas appliances to ensure safety. During a recent activation call, Barry was able to use his military experience and knowledge to assist a customer whose son had just passed away after 10 years of service with the Army.
"We were talking and she knew little about the military, so I provided contacts at the Savannah and Hinesville, Ga., bases," says Barry. It turned out the customer was the beneficiary of a military life insurance policy that she didn't know about.
It appears service and safety come naturally to Barry.
Southern Company Celebrates Women's History Month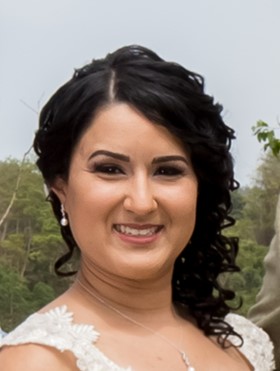 March 3, 2017 – In 2009, company recruiters traveled to Puerto Rico to recruit engineers for Plant Hatch. That's where they met Debi Pagan-Diaz.
Debi grew up in Puerto Rico and studied mechanical engineering at the University of Puerto Rico. After receiving a job offer, Debi left her family and home to move to Georgia where she became a program engineer at Plant Hatch. While there, Debi learned the benefits of working with a team of individuals excelling with their own personal strengths.
Debi wanted to take that same concept with her to Plant Vogtle. In 2013, she made the move to work as an engineer and future supervisor for Vogtle units 3 and 4. Debi is currently the assistant to the vice president of Vogtle 3 and 4.
Today, Debi enjoys mentoring young students who share her love for challenges and for taking things apart and putting them back together again.
What advice would you give to women starting off in the industry?
Don't be afraid to ask questions. You may think because you are new that your questions are too simple and may not add any value. Several of those "simple" questions have been the start of changes in an organization. So, go ahead and ask, get involved, and be agents of change. My grandmother used to say, and my mother taught me: "You currently have a no; but what if you get a yes? So, you see, there's nothing to lose."
What woman inspires you?
Kerri Strug was a member of the Magnificent Seven who brought gold to the United States during the 1996 Olympics. During her first attempt at the vault she fell and sprained her ankle. With the gold medal at stake, the team needed her to land her second vault. To this day, I still remember watching as Kerri limped her way over to her second attempt, ran with all her might, and landed the vault on both feet. I remember her saying, "It's important to push yourself further than you think you can go each and every day – as that is what separates good from great. The courage to soar to great heights is inside all of us."
How do you spend your time outside of work?
I have always enjoyed the outdoors, sports and a good challenge. Currently, I spend most of my time mountain and road biking with my husband and friends. It provides me with an opportunity to enjoy the scenery while creating memories. Besides biking, I support our AMIGOS East Region chapter by being a bridge between the company and our growing Hispanic/Latino community.