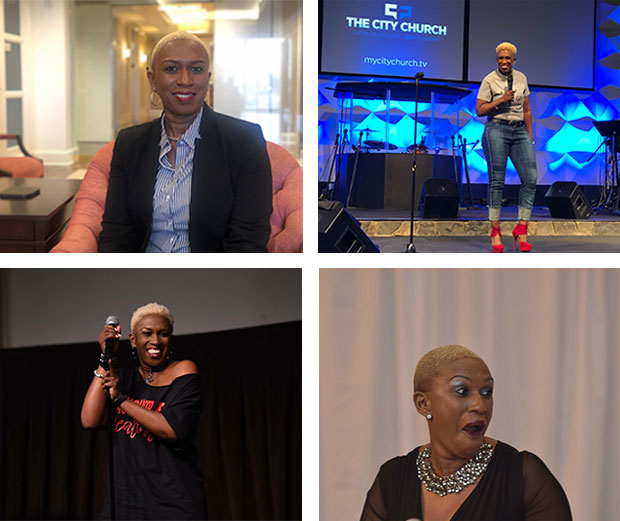 The Energy Behind the Energy: LaQuitcha Washington
Human resources by day, comedy by night. Meet LaQuitcha Washington.
By: Crystal Mussenden
Editor's note: With tens of thousands of employees across the Southern Company system, "The Energy behind the Energy" series is designed to share the careers, charities, hobbies, passions and talents of the amazing people who make our company successful.
Name: LaQuitcha Washington
Title: HR Service Center Senior Specialist, Southern Company Services
LaQuitcha Washington, a native of Charleston, South Carolina, has been making people laugh all her life. She spends her days supporting Southern Company's HR programs and spends her nights performing at comedy shows around the country.
"I have worked with LaQuitcha since she started working with HR Direct," said Tlicia Butler, Washington's HR Service Center supervisor. "From her first day, LaQuitcha has brought light and laughter and she is always willing to take on new challenges and job duties. I have the continued pleasure of seeing her passion and purpose of laughter grow."
What's your role at Southern Company?
I am a HR Specialist Sr. in the HR Direct Service Center. My role is the subject matter expert of LearningSOurce and the Tuition Reimbursement Program. I also, process leave requests, such as parental, adoption and maternity leave.
How did you become interested in your line of work?
I've worked in customer service for over 15 years. I started out the Customer Care Center in McDonough, Georgia and I've always had an interest in human resources. When the opportunity became available in HR Direct; I applied, and seven years later, here I am!
Tell us about your life outside of Southern Company.
I am a native of Charleston, South Carolina and a single mom of two adult millennials. My son Derrick is 22, and my daughter Jasmine is 25. We relocated to Atlanta in 1997; and we are a very close family. I also, have a grand pup by the name of Louie who is 5 years old.
I've been a clown all my life; however, I've been performing stand-up comedy for 11 years. During the weekends, and sometimes during the week, I travel to various states to perform. I am a clean comedian and my stage name is Comedian Lady Q. I love the opportunity to make people of all nationalities, ethnicities and ages laugh.
If your life was a movie what would it be called?
Laughter with Lady Q.